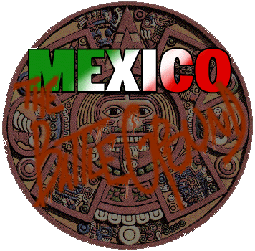 Se alza el humo de la batalla y los escudos resuenan
estruendosos, surge un cerco de polvo ahí donde se
agitan tus flores, oh, Guerrero, donde hacen estruendo
los variados Aguilas y Tigres.
Irán cayendo, irán sufriendo ruina: se teje la batalla,
se hace amarillo el polvo; se entreveran las cañas
floridas se van esparciendo y se abren sus corolas.

-Cantos de primavera

Rises the smoke of battle and the shields resound
thunderous, rises a wall of dust there where
your flowers shake, oh, Warrior, where make thunder
the varied Eagles and Tigers.
They'll be falling, they'll be suffering ruin: the battle
is woven, the dust is yellowed, the flowery reeds are
parted, and their crowns open.

-Chants of Spring
Prologue
This is the 2nd. Edition of a previous (waaay back) series of posts regarding Mexico in the World of Darkness. My experience as a Storyteller has increased as well as my knowledge of what I am writing about. Part of that knowledge I owe to Nicholas Alejandro Rossier (coatl@delphi.com), which pointed me to a very important character I had forgotten about: Tlacaelel, as well as providing the background for the Mictlan.

Most of the changes that have gone on are due to a series of books I read: "La mujer dormida debe dar a luz" (The sleeping woman must give birth) by Ayocuan, "Tlacaelel, el azteca entre los aztecas" (Tlacaelel, aztec between the aztecs) and "Regina: 2 de octubre no se olvida" (Regina: october 2nd is not forgotten) by Antonio Velasco Piña; chapter 3 is entirely based on the last book.

I skimmed over "Awakenings: Diablerie Mexico" and found it to be grossly innacurate (Mictlantecuhtli is the _nahuatl_ god of death; certainly not mayan). I've only heard bits and pieces of "The Chaos Factor", and will only use what is consistent with my world.
Introduction
The territory known as Mexico is at the center of many supernatural parties, though little is said about it to the uninitiated. Many Akashic Brothers have leaked that Mexico can be the key to Ascension and the Awakening of the masses, for a major Node is about to open in Mexico City, a Node said to be Gaia's Axis.

For this reason or even unconsciously, all the powers in the World of Darkness seek to appropriate the land, heedless of the consequences and heedless of the former inhabitants. The Technocracy is strong, but strong are the Dreamspeakers and the Celestial Chorists also. The Wyrm and the Weaver strangle the lands, but the Bete fight valiantly for the Wyld. The Sabbat controls the Cities as the Camarilla struggles to gain the country back, but the mysterious Mictlan rises again to claim power over their ancestral homeland.
---
---

Also check out what my friend Mario Martinez has done for the city of Monterrey, Nuevo León, it's mainly for Vampire and Mage and it's called Monterrey: the Fortress Besieged.

---

---

Comments for the author can be sent to Alejandro Melchor

Problems with this site send to Dennis Payne

This page was done by Alejandro Melchor, and last modified in 20/Sep/1995