Main - Buy Cards
---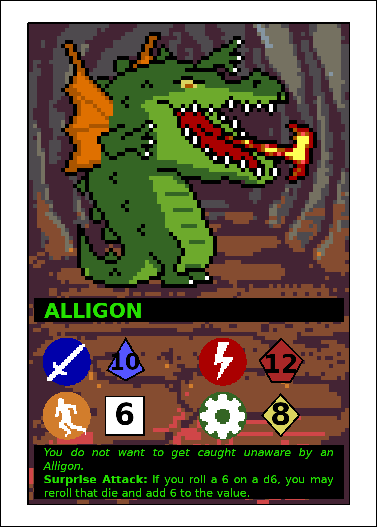 About
Pixel Critters is a simple card game featuring only monster cards. The game requires dice (d6, d8, d10, and d12) to play.
Original cards included: Alligon, Occuphaser, Swarmion, Electle, Cygorg, Crawlbite, Sporgus, Raptoloid, Typhiddra, Amorblid, Twocold, and Uniblaze
Download
Credit
Writer & Monster Art: Dennis Payne
Backgrounds: Hyptosis (Simple Battles under CC-BY-3.0 license)
Floppy Disc: Gobusto (Floppy Disc under CC-BY-SA-3.0 license)
Strength, Speed, and Magic Icons: Clint Bellanger (Power Icons under CC0 license)
Techology Icon: n4 (Gears and Wrench under CC0 license)
Dice in rulebook: Aeynit (Fantasy Dice Pack under CC-BY-4.0 license)
Some parts of Dice Icon: OptimusDu (Hit Die Icons under CC0 license)
Additional monster inspiration
Monster inspiration come from many sources but I thought I would highlight some that influenced Pixel Critters.
Questions or comments can be sent to dulsi@identicalsoftware.com.