Main - Screenshots - Source Code
---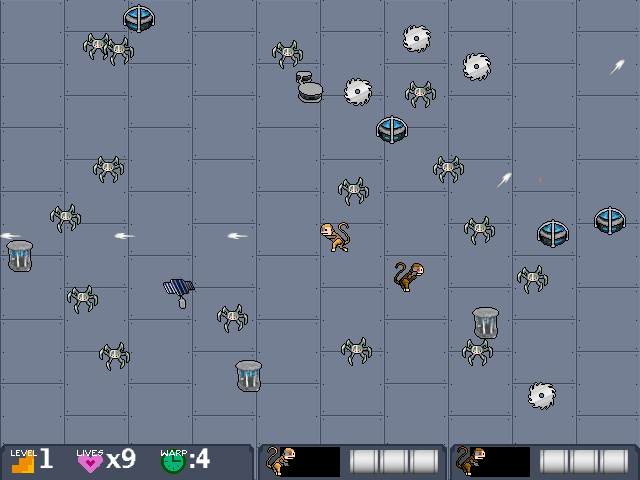 About
In 2085, the last of humanity died. The machines had won. Mojo doesn't know why they continued experimenting on monkeys. All he knows is that he wants it to stop and the robots have given him the ability to do something about it.
Mojotron: Robot Wars is a twin stick shooter. One stick controls movement while the other controls direction of fire. You simply need to survive the waves of enemies.
Power-ups

Extra life

Extra 5 seconds warp time

Three way fire

Rear fire

Reflective bullets

Mines

Bomb

Invincibility

Circling droid or Ram droid

Flamethrower

Teleport

Monster repellent

Monster slowdown

The Bitmap Brothers tribute bonus

Machine gun

Monster shrink

InstaCrate!
Credit
Current Programmer : Dennis Payne
Original Programmer : Craig Timpany
Artwork Credit found in robotwar/CREDITS.wd
Download
Mojotron: Robot Wars on itch.io
Original Mojotron available via Internet Archive
Support the Project
Questions or comments can be sent to dulsi@identicalsoftware.com.